Como uma banda pode se tornar lenda sem nunca ter tocado ao vivo e apenas com um álbum na discografia? Com certeza não existe uma só resposta a essa pergunta mas, a banda que conseguiu esse feito se chama WARLORD. O "Senhor da Guerra" é uma banda americana surgida em 1980 com a finalidade de tocar "Epic Power Metal", com os pés fincados no metal europeu. Imaginem as dificuldades pelas quais os caras passaram. Naquela fase do metal, as bandas americanas predominantes eram aquelas voltadas para o glam, cabelos cheios de laquê, muita maquiagem, visual andrógino, como era o caso do MOTLEY CRUE. Não foram poucas com certeza porque, nem o respeito adquirido junto ao fãs do estilo foi suficiente para manter a banda em atividade por muito tempo. A primeira gravação do WARLORD surgiu numa clássica série de coletâneas, responsável por ter lançado várias das melhores bandas dos 80's, a METAL MASSACRE (só para vocês terem uma idéia, a primeira música do METALLICA que eu ouvi , ainda com o Dave Mustaine é a "Hit The Lights" num desses lançamentos, e eu tenho quase certeza que foi a primeira vez que os caras gravaram). A faixa "Lucifer's Hammer", que se tornaria um clássico, re-gravada nesse "Rising", saiu no LP (pois é meus camaradas, bolachão!) METAL MASSACRE II. Logo depois a banda lançaria o seu primeiro e único álbum de estúdio, o DELIVER US, com seis músicas.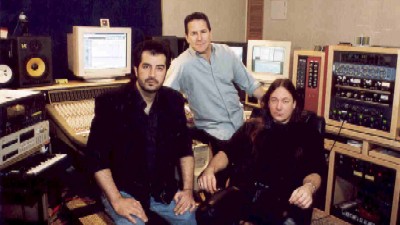 Em 84, um novo trabalho, um single com as músicas "Aliens" e "Lost And Lonely". Ainda naquele ano, numa dessas sacadas visionárias, decidem fazer um filme tocando ao vivo, sem público, num estúdio próximo. As músicas desse vídeo foram lançadas também no LP "And The Cannons Of Destruction Have Begun", nem é preciso dizer que, tanto o vídeo original quanto o disco, são hoje itens de colecionador. Não muito tempo depois, o WARLORD deixa de existir. Em 2001, o retorno. Da banda original, os dois fundadores: o guitarrista William J. Tsamis ou "Destroyer" e o baterista Mark S. Zonder ou "Thunder Child". Aqui é preciso um parênteses. Na década de 80 (e parte dos 90), era comum bandas com membros usando pseudônimos de personagens épicos/lendários ou apenas baseados nas lendas/epopéias desses mesmos personagens ou então, nomes que expressassem honra, bravura ou poder . As bandas mais conhecidas que utilizaram esse expediente talvez tenham sido DESTRUCTION, VENOM e SEPULTURA, entre dúzias de outras. WARLORD foi também uma delas. A banda teve três vocalistas chamados "Damien King", seguido dos respectivos algarismos romanos I, II e III.


Voltando a 2001, dessa feita, a voz do WARLORD esta sob a responsabilidade de um sueco que em 1981 - ano em que foi escrito um dos clássicos desse CD de retorno, a grande "Winds Of Thor", que teve letra e alguns dos riffs bolados por Tsamis num ponto de ônibus - tinha apenas 10 anos! Esse moleque era Joacim Cans, vocalista do HAMMERFALL, uma das mais belas vozes do metal contemporâneo. O resultado desse encontro não poderia ter sido melhor. Algumas resenhas desse CD encontradas na internet dizem que Joacim é um verdadeiro WARLORD, afirmações que esse escriba também endossa! Joacim canta com maestria as 9 faixas desse grande álbum e não desaponta nunca. William e Mark também demonstram que não voltaram à toa. William é um mago dos riffs pesados e dos solos em escala menor, criando um clima épico/triste/poderoso, digamos, "fora de moda" dentro dos padrões de muitas bandas novas que ainda não conseguiram mostrar porque vieram. Mark não tem a preocupação de ser supersônico no seu instrumento mas, dentro do seu comedimento, consegue provar que velocidade não é tudo e muitas vezes, pode-se dizer, não significa nada. Mesmo correndo o risco de errar, acredito que a música do WARLORD é uma mistura das melhores bandas de metal melódico atual, com as visões de campos de batalhas do MANOWAR, um pouco da ópera, das guitarras e da capacidade de contar uma história (mesmo não sendo conceitual) dos trabalhos de KING DIAMOND, embalada numa roupagem muito própria.



Deliver Us (1983)


01. Deliver Us from Evil
02. Winter Tears
03. Child of the Damned
04. Penny for a Poor Man
05. Black Mass
06. Lucifer's Hammer



And the Cannons of Destruction Have Begun... (1984)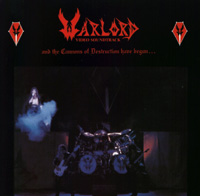 01. Beginning/Lucifer's Hammer
02. Lost and Lonely Days
03. Black Mass
04. Soliloquy
05. Aliens
06. MCMLXXXIV/Child of the Damned
07. Deliver Us from Evil